I've often found that skateboarding with glasses on has been a nightmare, so I really wanted to put together some advice following the experience of skateboarding with glasses for many years. There's usually one unquestionable concern, which is that if your glasses come off whilst skateboarding, you're in trouble because you cant see anything. Yes, if you're anything like me, you're blind without them. I have even found that sometimes I prioritise my glasses over the rest of my safety when I fall, which is quite dangerous.
Therefore I have the following pieces of advice for skateboarding with glasses, but I first want to detail some benefits of wearing glasses. This is something most people wont even consider.

Are there any benefits to skateboarding with glasses?
Glasses are frames with most often plastic lens' that enable you to see, and we all know this, but we should also consider, that as a result of wearing glasses there's an increased chance of having a better eyesight than someone who doesn't test their eyes very often, and having a lens in front of your eye helps prevent some serious injuries (less dust enters, much less chance of being scratched on the eye etc). Glasses also very frequently have something called UV protection, which helps protect the eyes from harmful sun rays. This means there's atleast three major advantages to wearing glasses when you skate, and lets be honest skateparks are often cement and on a hot sunny day they're likely to be reflecting a lot of sunlight off the ground. Lets also put some bonus points into wearing glasses while you skate, they can be fashionable! There's some great designs out there and frequently they're worn by many celebrities.
How to skateboard with glasses
I've now explored why we should wear glasses when we skate and those awesome bonus's but how do you manage to keep them from falling off your face as you bail hard, or stop them from rattling around as your cruising? Well there's some really simple ways to do this.
Tip 1 for skateboarding with glasses: Curved legs on the frames
If you're looking for new frames, the straight legged frames are the worst for sports, they slide on and off easily, look fashionable but are not resistant to you bouncing around. You really need to have some curved legs that tuck right in behind the ears. What this does is keep the glasses snug against your face and head minimising movement. Now we can't all buy new glasses just for a sport we love, so the rest of the advice below may help.
Tip 2 for skateboarding with glasses: Have a second pair of glasses
Again this is not always something that's an option, but if you're able to have a second pair of glasses, dedicate them for sports such as skateboarding. This will minimise the risk to your primary pair, it also means if one is going to get scratched a little, then it's the same pair every time. Also it's really important, have that second pair in your bag, or car etc so if the first ones do break you still have a means to see for getting home safely.
Tip 3 for skateboarding with glasses: Slide on rubber legs
Now if you're like me, you've ignored tip one and possibly even two, but I've found this one is a life saver. There are rubber legs you can get that slide onto the legs of your glasses frames and it's shocking how good they are at keeping your glasses tight to your head/face. I always carry a pair of these rubber legs now in my wallet. They slide on and off easily but grip incredibly well. I dont think since I started to wear these that I have once had an accident skateboarding where my glasses have left my head. They're also the cheapest solution (I think I got 5 pairs for about $5 on ebay). The following link is an example search Link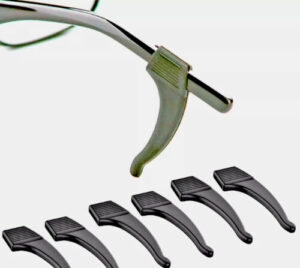 Tip 4 for skateboarding with glasses: Don't, get contact lens'
I have since migrated away from rubber legs and I try to put contact lens' in for playing sports. It's a small hassle but really has given me some freedom because I have even less to worry about now. They do cost, but I purchase daily disposable ones from my opticians with my prescription in. I did find it very hard at first to get used to putting them in and taking them out, but I can now do it quite quickly (after 3 months). If you have the money spare, I'd definitely opt for this, and to protect against UV you could always add some sun glasses. I do occasionally wear my glasses (if I forget the contacts).
Tip 5 for skateboarding with glasses: Get dedicated sports glasses/goggles.
The last tip for skateboarding with glasses, is more related to if you do multiple sports. Some sports offer a lot of danger and high impacts (think wrestling for example), and some you'll be moving very fast (think cycling), so in those instances it may be worth buy sports glasses. They are like a mix between glasses and goggles, with a rubber band that goes around your head. Great for those all out sports people who do loads of different sports.
My chosen preferences are tip 3 and 4, slide on rubber legs and contact lens'. I really enjoy the freedom I get from this combination and I like the protection I get when skateboarding with glasses/contact lens'.