I noticed that recently when researching skate parks in the North East of England that the images were either rubbish, or just didn't exist. I will therefore try and take images of all the skate parks I visit and upload them into this area.
Alexandra Skate Park has been one of my favourites over the last year, the same for my daughter. However with the recent construction of children's climbing frames and other equipment, it's gone down hill. Unfortunately Northumberland council has neglected to install seating for parents and therefore the Alexandra skate park in cramlington has been over taken by parents using it as seating. This is a health and safety risk I'm sure. Unfortunately people will get hurt by standing/sitting in the wrong place without the appropriate protective equipment.
The banks in the park are nice, with a mix of sizes for different levels of skaters. The double bank throws my balance when I hit this, so setting my feet up for tricks does get difficult on this one.
The Ledges are quite nice, although they do get painted over by the council (not sure why they do this). I've managed to grind most of these, so I know they're grind-able.
The bowl is about 5-6ft, unfortunately although the council keep the overall park clean, they never seen to clean the bowl, so it's filled with rubbish and debris (so skateboarding this is a nightmare).
The location of Alexandra Skate Park in Cramlington, can be found here: https://goo.gl/maps/iW1NPGD9kHMUnzWT9 
Ok that being said, lets look at some images. Alexandra skate park has a few nice features which include: 1x Bowl, 1x transition style spine, multiple banks, 3x hand rails and a 5 set of stairs.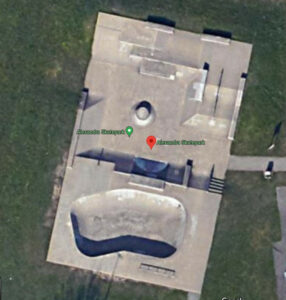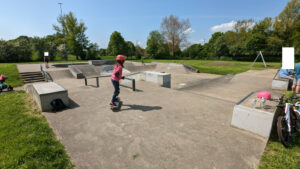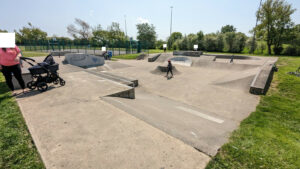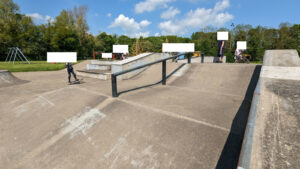 Note: I've removed peoples faces from the images, due to not having their permission to publish. I have taken these photographs myself.
All in all, a lovely skate park when not being occupied by people using it as seating for the kids play area and as long as you dont plan to skate the bowl.