I wanted to review the VS Pace Lifestyle Skateboarding Shoes due to their increasingly popular demand, and the increased frequency I'm seeing Adidas and Nike on peoples feet at the local skateparks. However I feel it's only fair to say I'm not a huge fan of Adidas and Nike getting into the skateboard marketplace but I'm old school and love my DCs, Vans, Emericas, Etnies etc This does not mean that Adidas and Nike are not any good and I will explore the Adidas VS Pace Lifestyle Skateboarding Shoes in this article, to see if they hold up well.
What are the Adidas VS Pace Lifestyle Skateboarding Shoes?
It's a shoe, something you put on your feet right? Well this is true but it's also been developed by one of the biggest sports brands in the world, Adidas, so they will have put a lot of effort into making sure the VS Pace Lifestyle works well in the sport that it's designed for, and not just created a shoe with the hope of success. Adidas design shoes for all kinds of sports, from athletics tracks to football pitches, but what about skateboarding? Well this is one of their attempts to get into the skateboarding sport. The VS Pace Lifestyle is quoted as "Skate Inspired Shoes", and "the rubber outsole adds grip while the synthetic nubuck upper provides comfort and flexibility" on the official Adidas website (link). Therefore we know of two things, they're designed for comfort and also grip, which is a great start.
The design of the VS Pace Lifestyle also has the clean and classic three Adidas stripes, which makes them stand out very clearly from alternative cheaper brands. The shoe is kept simple and uncomplicated in design often with a solid primary colour that covers the majority of the shoe, which a lot of skateboarders really like and maybe a secondary colour for the three stripes.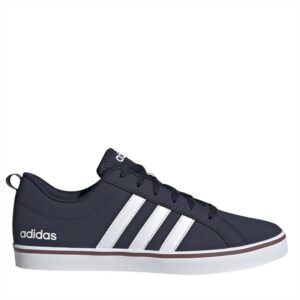 When was the original Adidas VS Pace Lifestyle Skateboarding Shoe Released?
When looking around, I cant really identify when the first pair of VS Pace Lifestyle skateboard inspired shoes was released, but I can identify that they're now on a second generation (or so I believe. 2.0 is referenced in the name) of the shoe/trainer/sneaker. This alone offers a positive aspect to the shoe. It means sufficient demand existed in the first design to create a second design, but also since it's not a first generation, it means there's been opportunity to improve on any faults found if any existed to begin with.
Do any pro skateboarders wear Adidas VS Pace Lifestyle Skateboarding Shoes?
There's a good chance that there are some professional skateboarders out there riding with the VS Pace Lifestyle shoes on their feet because the Adidas skate team is quite big. It has some very big names such as Tyshawn Jones, Mark Gonzales and Daewon Song. The full list of skateboarders who could be wearing the VS Pace Lifestyle in their skateboard videos can be seen on this link.
How does the cost of Adidas VS Pace Lifestyle compare to other skateboard brands for shoes?
When I started to look into the cost of these shoes I figured there's two costs I should look for. The first is what is the full price cost of a pair of VS Pace vs the cost of a new pair of DCs, Etnies or Vans, and the second is to see what the cost is for these shoes when they're on sale. In both scenarios the cost is comparable to the legacy brands.
I want to summarise now with the following statement which is that I would genuinely consider purchasing these next time I need a pair of skate shoes.
If your looking for alternative skateboard shoes to the Adidas VS Pace Lifestyle, then check out my best shoes for beginner skateboarders article