Ok so this skate park is based in the coastal town of Whitley Bay and I recently visited this on a Friday when I was off and the kids in school, so that is why it is empty. Yep, I had an empty park to myself pretty much (one of my friends joined me).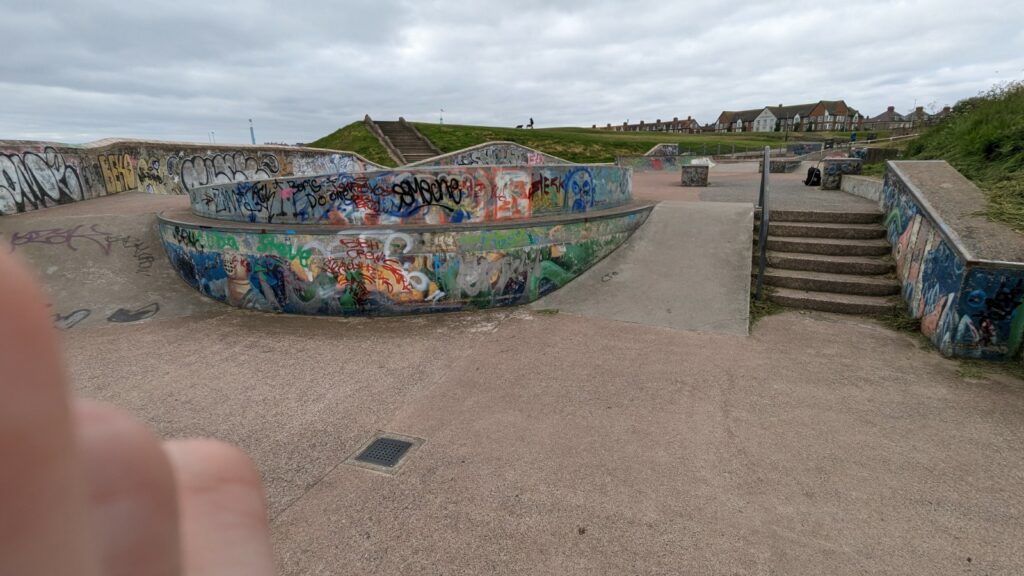 I'll start off few a things to note because for skateboarding they're very nasty but for scooters and bmx's etc they may be fine. The first is that the ground is horrible, there is no smooth concrete, instead it's like a gravel based ground (lots of bumps and I can only imagine how painful this is for anyone that falls. Not pleasant to ride on that's for sure with my 54mm wheels. The second negative is that it's beside the beach, which means sand does get into the park and it may affect your bearings over time, but I wouldn't worry a huge amount. The final drawback is that on the side of the park is a huge grassy hill, so when the grass is cut it obviously ends up where? In the bowl. It's a coastal park so I'd say it likely gets blown away quite fast.
Oh! and one more thing I really didn't like here, the rail (you can see in images) has zero run up. How on earth are you supposed to prep for a grind on it and carry momentum so that you can grind the full thing? No idea. It feels like this park was built by BMX'rs for BMX'r, but what do I know?
Never the less, there are some really good parts of the park, for example it's on the coast so you get some lovely views. There's a nice street section with some boxes, and a stair set. There's also a nice box (you can clear it if you go as fast as you possible can down the bank (you need a run up), and there's some very good quarter pipes. I'd say it doesn't trump North Shields skate park but you could easily skate around for a bit if this is something your passing by. It's definitely no Venice beach skate park, but has a feel to it like they tried to compete a little.
For transportation links, the closest metro station might be Monkseaton metro, and there's a major road close by with ample parking (pay for it) and plenty of bus routes.